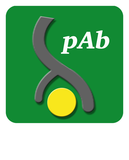 Catalog # WP3931
WWP1 (N-terminus) Antibody
Rabbit Polyclonal
Size 100 μl
Species Reactivity Hu, Rt, Ms, Ck
MW 110 kDa
The Nedd4-like family of E3 ubiquitin ligases have been implicated in several types of human cancer. There are nine members of the Nedd4-like E3 family, all of which have an N-terminal C2 domain, two to four WW domains in the central region, and a C-terminal domain that is homologous to the C-terminus of E6-AP. This ubiquitin ligase family includes NEDD4-1, NEDD4-2, AIP4/Itch, AIP5/WWP1, SMURF1 and SMURF2. Several ubiquitin ligases in this family are overexpressed in human cancers. WWP1 has been implicated as an oncogene as it is overexpressed in prostate and breast cancers, and knockdown of this ligase reduces cell proliferation and causes apoptosis. In addition, WWP1 has been shown to negatively regulate transforming growth factor-β (TGFβ) signaling by targeting TGFβ receptor 1, Smad2, and Smad4 for ubiquitin-mediated degradation. WWP1 has also been shown to regulate the protein levels of the epithelial sodium channel (ENaC), Notch, EGFR/ErbB2, Runx2, KLF2, KLF5, p53, and p63. Thus, WWP1 may regulate cell development and proliferation through the degradation of proteins involved in a variety of cell signaling pathways.
References
Chen, C. et al. (2009) Int. J. Cancer 124:2829.
Chen, C. et al. (2005) J. Biol. Chem. 280(50):41553.
Komuro, A. et al. (2004) Oncogene 23:6914.
Pirozzi, G. et al. (1997) J. Biol. Chem. 272:14611.
WWP1 synthetic peptide (coupled to carrier protein) corresponds to amino acids in the N-terminus of human WWP1. This sequence is highly conserved in rat and mouse WWP1, and has low homology to other NEDD4-like family members.


*For more information, see UniProt Accession Q9H0M0
Rabbit polyclonal, affinity-purified antibody is supplied in 100µl phosphate-buffered saline, 50% glycerol, 1 mg/ml BSA, and 0.05% sodium azide. Store at –20°C. Stable for 1 year.



The products are are safely shipped at ambient temperature for both domestic and international shipments. Each product is guaranteed to match the specifications as indicated on the corresponding technical data sheet. Please store at -20C upon arrival for long term storage.
The antibody detects a 110 kDa* protein corresponding to the apparent molecular mass of WWP1 on SDS-PAGE immunoblots of adult mouse liver and human PC3 cells. The antibody also detects lower molecular weight isoforms of WWP1 in mouse liver, and human PC3, HepG2, K562, HeLa, and HUVEC.
*All molecular weights (MW) are confirmed by comparison to Bio-Rad Rainbow Markers and to western blot mobilities of known proteins with similar MW.