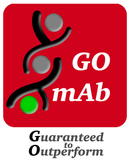 Catalog # BM0451
B7-H3/CD276 (Extracellular region) Antibody
Mouse Monoclonal
Application / Dilution
| | |
| --- | --- |
| ELISA (Cap) | 1:100 |
| ICC | 1:100 |
| IP | 1:100 |
| WB | 1:1000 |
Size 100 μl
Species Reactivity Hu
MW 100-120 kDa
Isotype IgG1
B7 homolog 3 (B7-H3, CD276) is a member of the B7 family of cell surface ligands that regulate T cell activation and immune responses. B7-H3 is a membrane protein with an extracellular region that includes two Ig-like V-type domains and two IgG-like C2-type domains, and a short intracellular domain. B7-H3 is a regulatory molecule for immune reactions, such as T cell proliferation and IFN-γ production. In colon cancers, B7-H3 inhibits T-cell cytotoxicity, and blocking B7-H3 function enhances T-cell cytotoxicity toward cancer cells. B7-H3 is expressed by antigen presenting cells, activated T cells, and a few normal tissues, including placenta and prostate. In cancer, B7-H3 is expressed in various tumor types including prostate, breast, colon, lung, and gastric cancers. The B7-H3 expression level correlates with tumor growth, invasion, metastasis, malignant stage, and recurrence rate. The inhibition or blockade of B7-H3 function could be an important immunotherapeutic approach for several types of cancer.
References
Chapoval AI, et al. (2001) Nat Immunol. 2(3):269.
Yang S. et al. (2020) Int J Biol Sci. 16(11):1767.
Clone (M045) was generated from a recombinant protein that included the extracellular region of human B7-H3 protein.


*For more information, see UniProt Accession Q5ZPR3
Mouse monoclonal antibody purified with protein G chromatography is supplied in 100 µl phosphate-buffered saline, 50% glycerol, 1 mg/ml BSA, and 0.05% sodium azide. Store at –20°C. Stable for 1 year.



The products are are safely shipped at ambient temperature for both domestic and international shipments. Each product is guaranteed to match the specifications as indicated on the corresponding technical data sheet. Please store at -20C upon arrival for long term storage.
Clone M045 mouse monoclonal antibody detects a 100-120 kDa* protein on SDS-PAGE "Native" or denatured immunoblots of human LNCaP, MCF-7, NCI-H28, A431, and MDA-MB-231 carcinomas. The antibody detects B7-H3 in membranes and cytoplasm in MCF7 cell after immunocytochemical labeling. The antibody works for western blot, immunoprecipitation, immunocytochemistry, and ELISA capture.
*All molecular weights (MW) are confirmed by comparison to Bio-Rad Rainbow Markers and to western blot mobilities of known proteins with similar MW.