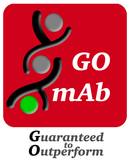 Catalog # TM0051
Trop-2/TACSTD2 (Extracellular region) Antibody
Mouse Monoclonal
Application / Dilution
| | |
| --- | --- |
| ELISA (Cap) | 1:100 |
| ICC | 1:100 |
| IP | 1:100 |
| WB | 1:1000 |
Size 100 μl
Species Reactivity Hu
MW 60 kDa
Isotype IgG1
Trop-2 (TACSTD2) is a transmembrane glycoprotein found on invasive trophoblast cells and in several epithelial type cancer cells. Trop-2 has an extracellular domain with EGF thyroglobulin type-1 repeats, a transmembrane domain and a short cytoplasmic tail with a HIKE domain containing a PIP2 binding site. This glycoprotein functions in many signaling pathways including interaction of its extracellular domain with integrin β1 to regulate FAK signaling, interaction of its transmembrane domain with claudin 1 and claudin 7 during tight junction formation, and regulation of intracellular calcium release by its PIP2 binding and activation of the ERK/MAPK pathway. These Trop-2 functions may be important during tumor proliferation, metastasis and invasion.
References
Shvartsur A & Bonavida B (2015) Genes Cancer 6(3-4):84
McDougall, AR et al. (2015) Dev Dyn. 244:99
Clone M005 was generated from a proprietary antigen related to the extracellular region of human Trop-2 from the A431 epidermoid carcinoma cell line.


*For more information, see UniProt Accession P09758
Mouse monoclonal antibody purified with protein G chromatography is supplied in 100 µl phosphate-buffered saline, 50% glycerol, 1 mg/ml BSA, and 0.05% sodium azide. Store at –20°C. Stable for 1 year.



The products are are safely shipped at ambient temperature for both domestic and international shipments. Each product is guaranteed to match the specifications as indicated on the corresponding technical data sheet. Please store at -20C upon arrival for long term storage.
Clone M005 detects a 50-65 kDa* band corresponding to the molecular mass of Trop-2 on SDS-PAGE immunoblots of native human A431, MDA-MB-231, and MCF-7 cell lysates. The antibody also detects denatured Trop-2, but with less affinity. Lower dilutions of the antibody should be used for denatured western blot. Clone M005 can be used for western blot, immunocytochemistry, ELISA, and immunoprecipitation, as well as for detecting live unfixed cells.
*All molecular weights (MW) are confirmed by comparison to Bio-Rad Rainbow Markers and to western blot mobilities of known proteins with similar MW.