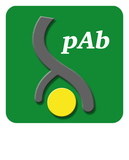 Catalog # SP3921
Semaphorin-3F (a.a. 746-762) Antibody
Rabbit Polyclonal
Size 100 μl
Species Reactivity Hu, Rt, Ms
MW 95 kDa
One family of inhibitory axon guidance molecules is the semaphorins. The semaphorins include secreted, transmembrane, and GPI-anchored extracellular molecules that have been implicated in neuron development, vascular disease, and tumor progression. There are eight classes of semaphorin genes, all of which are characterized by a conserved 500 amino acid, cystine-rich Sema domain. Semaphorin 3F (Sema-3F) is a class III secreted semaphorin that binds with high affinity to Neuropilin-2, and low affinity to Neuropilin-1. During peripheral and central nervous system development, Sema-3F has critical roles in axon guidance and dendrite outgrowth. Sema-3F has also been shown to inhibit angiogenesis by manipulating VEGFR function and decreasing blood vessel density. In cancers, Sema-3F induces a poorly vascularized, encapsulated, non-metastatic phenotype through chemorepulsion of endothelial cells in melanoma, while Sema-3F disrupts intercellular contacts of MCF7 breast cancer cells through delocalization of E-cadherin and β-catenin. Thus, Sema-3F may have important roles in axon guidance, angiogenesis, and tumor progression.
References
Kolk, S.M. et al. (2009) J Neurosci. 29(40):12542.
Tran, T.S. et al. (2009) Nature. 462(7276):1065.
Xiang, R.H. (1996) Genomics. 32(1):39.
Semaphorin 3F synthetic peptide corresponds to amino acids 746 to 762 in human Sema-3F. This sequence is highly conserved in rat and mouse Sema-3F, and has low homology to other semaphorin family members.


*For more information, see UniProt Accession Q13275
Rabbit polyclonal, affinity-purified antibody is supplied in 100µl phosphate-buffered saline, 50% glycerol, 1 mg/ml BSA, and 0.05% sodium azide. Store at –20°C. Stable for 1 year.



The products are are safely shipped at ambient temperature for both domestic and international shipments. Each product is guaranteed to match the specifications as indicated on the corresponding technical data sheet. Please store at -20C upon arrival for long term storage.
The antibody detects a 95 kDa* protein corresponding to the apparent molecular mass of Sema-3F on SDS-PAGE immunoblots of adult mouse brain and liver.
*All molecular weights (MW) are confirmed by comparison to Bio-Rad Rainbow Markers and to western blot mobilities of known proteins with similar MW.