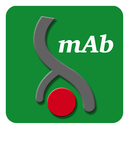 Catalog # SM3691
Shank1 (C-terminal region) Antibody
Mouse Monoclonal
Size 100 μl
Species Reactivity Hu, Rt, Ms
MW 225 kDa
Isotype IgG1
A variety of anchoring and scaffold proteins that are associated with postsynaptic density (PSD) proteins have been discovered. In particular, PSD-95, GRIP, and Homer have been reported to be anchoring proteins for NMDA, AMPA, and metabotropic glutamate receptors. Shank1 is a synaptic protein that may bridge the NMDA receptor complex and the mGluR receptor complex. The Shank family includes Shank1, Shank2 (ProSAP1), and Shank3 (ProSAP2). These proteins contain several domains involved in protein-protein interactions. These include ankyrin repeats, an SH3 domain, a PDZ domain, a SAM domain, and a proline-rich region. The PDZ domain of Shank directly interacts with the C-terminal region of GKAP, which can bind to the GK domain of PSD-95 family members. The proline-rich region of Shank directly interacts with the EVH1 domain of Homer. Shank1 knock-out mice have altered PSD protein composition, reduced size of dendritic spines, and smaller PSDs. In addition, these mice have weaker basal synaptic transmission and show increased anxiety-related behavior.
References
Hung, A.Y. et al. (2008) J. Neurosci. 28:1697.
Lim, S. et al. (1999) J. Biol. Chem. 274(41):29510.
Naisbitt, S. et al. (1999) Neuron 23:569.
Clone M369 was generated from a sequence corresponding to amino acids in the C-terminal region of rat Shank1. This sequence has high homology to human and mouse Shank1.


*For more information, see UniProt Accession Q9WV48
Mouse monoclonal, protein A purified antibody is supplied in 100µl phosphate-buffered saline, 50% glycerol, 1 mg/ml BSA, and 0.05% sodium azide. Store at -20°C. Stable for 1 year.



The products are are safely shipped at ambient temperature for both domestic and international shipments. Each product is guaranteed to match the specifications as indicated on the corresponding technical data sheet. Please store at -20C upon arrival for long term storage.
This antibody detects a 225 kDa* protein corresponding to the molecular mass of Shank1 on SDS-PAGE immunoblots of adult mouse brain.
*All molecular weights (MW) are confirmed by comparison to Bio-Rad Rainbow Markers and to western blot mobilities of known proteins with similar MW.