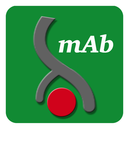 Catalog # OM5741
Osteopontin (N-terminal region) Antibody
Mouse Monoclonal
Application / Dilution
| | |
| --- | --- |
| ELISA | 1:1000 |
| ICC | 1:50 |
| WB | 1:500 |
Size 100 μl
Species Reactivity Hu, Rt, Ms
MW 60 kDa
Isotype IgG1
Osteopontin (OPN) is a 34 kDa sialic acid rich member of small integrin-binding ligand N-linked glycoproteins. It is expressed in many different tissues and is post-translationally modified at multiple sites with both glycosylation and phosphorylation. The mature post-translationally modified protein is 60 kDa. OPN is involved with cell survival, proliferation, invasion, and stem like behavior. OPN can interact with CD44, bind hydroxyapatite, and activates many integrins. These interactions are important for OPN function in cell matrix formation. A higher presence of OPN has been found in a variety of cancers, leading to increased tumor growth and metastasis. In addition, OPN is involved in type I immunity through its function as a cytokine where it can enhance production of interferon-gamma and interleukin-12 and reduce production of interleukin-10.
References
Shevde, L. et al. (2014) Matrix Biology 37:131
Sodek, J. et al. (2000) Crit Rev Oral Biol Med. 11(3):279
Clone M574 was generated from a recombinant protein containing amino acid residues in the N-terminal region of human osteopontin. This sequence has high homology with rat and mouse osteopontin.


*For more information, see UniProt Accession P10451
Mouse monoclonal antibody purified with protein A chromatography is supplied in 100µl phosphate-buffered saline, 50% glycerol, 1 mg/ml BSA, and 0.05% sodium azide. Store at –20°C. Stable for 1 year.



The products are are safely shipped at ambient temperature for both domestic and international shipments. Each product is guaranteed to match the specifications as indicated on the corresponding technical data sheet. Please store at -20C upon arrival for long term storage.
Clone M574 was purified using Protein G chromatography. The antibody detects a 60 kDa* protein corresponding to the molecular mass of Osteopontin on SDS-PAGE immunoblots of human MDA-MB-231 cells and human full length recombinant Osteopontin protein.
*All molecular weights (MW) are confirmed by comparison to Bio-Rad Rainbow Markers and to western blot mobilities of known proteins with similar MW.