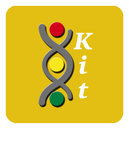 Catalog # MK6170
Muscle Atrophy Ubiquitin Ligase Antibody Kit
Antibody Sampler Kit
KIT SUMMARY

The muscle atrophy antibody sampler kit can be used to detect the changes in the expression of muscle-specific ubiquitin ligases, Atrogin 1 and MuRF1. The kit also includes peptides for antibody blocking experiments and a secondary reagent for antibody detection.
Rabbit polyclonal antibodies are supplied in phosphate-buffered saline (PBS), 50% glycerol, 1 mg/ml BSA, and 0.05% sodium azide. The secondary reagents are supplied in the same buffer without azide, and the peptides are supplied in PBS and 0.05% sodium azide. Store all at –20°C. Stable for 1 year.



The products are are safely shipped at ambient temperature for both domestic and international shipments. Each product is guaranteed to match the specifications as indicated on the corresponding technical data sheet. Please store at -20C upon arrival for long term storage.
*All molecular weights (MW) are confirmed by comparison to Bio-Rad Rainbow Markers and to western blot mobilities of known proteins with similar MW.
Product References:
AP2041 Akira, W. et al. (2016) Mol Cell Biochem. 412(1-2):59 WB: rat gastrocnemius muscle
AP2041 Tanaka, M. et al. (2016) Acta Histochem. 118(1):56 WB: rat soleus muscle
MP3401 Akira, W. et al. (2016) Mol Cell Biochem. 412(1-2):59 WB: rat gastrocnemius muscle
AP2041 Nogueira-Ferreira, R. et al. (2016) Int J Cardiol. 203: 858 WB: rat cardiomyocytes
AP2041 Padrao, A. I. et al. (2015) Arch Biochem Biophys. 567:13 WB: rat cardic muscle
MP3401 Gwag, T. et al. (2015) J phys & pharm 66(2): 273. WB: rat L6 myotube
MP3401 Jaitovich, A. et al. (2015) J Biol Chem. 290(14):9183 WB: C2C12 myotubes
AP2041 Son, Y.H. et al, (2015) Journal of Endocrinology 225(1): 27. WB: C2C12
MP3401 Mastro, L.M. et al. (2015) Domest Anim Endocrinol. 50:14. WB: horse gluteus medius muscle
AP2041 Greco, S. H. et al. (2015) PLoS One. 10(7): e0132786. WB: pancreatic cells
AP2041 Kwon, O.S. et al. (2015) J Appl Physiol 119(10):1033. ICC: rat diaphram muscle
AP2041 Mastro, L.M. et al. (2015) Domest Anim Endocrinol. 50:14. WB: horse gluteus medius muscle
AP2041 Moreira-Gonçalvesa, D et al.(2015) Bioch Bioph;1852(12):2722 WB: Rat blood and gastrocnemius
MP3401 Franchi, M.V. et al. (2014) Acta Physiol (Oxf). 210(3):642. WB: human vastus lateralis muscle
AP2041 Parreiras-e-Silva, L. et al.(2014) Clin Sci;. 127(3):185. ICC, WB: C2C12 myotubes
AP2041 Pond, A.L. et al. (2014) Muscle Nerve. 49(3): 378 WB: mouse gastrocnemius
AP2041 Akkad, H et al. (2014) PLoS One. 9(4): e92622. WB: rat masseter muscle
AP2041 Puppa, M.J. et al. (2014) FASEB J. 28(2):998 WB: C2C12 myotubes
AP2041 Akkad, H. et al. (2014) PLoS One. 9(4): e92622 WB: rat masseter muscle
AP2041 Bobadilla, M. et al. (2014) Stem cells 32(2): 447. WB: mouse satellite cells
MP3401 Kang, J. et al. (2014) FEBS Lett. 588(1):79 WB: C2C12 myoblasts
AP2041 Fanin, M. et al. (2014)Muscle Nerve 50(3):340. WB: human proximal muscle
MP3401 Ostler, J. et al. (2014) Am J Phys Endo Metab. 306(6): E592. WB: rat gastrocnemius and skeletal muscle
MP3401 Pond, A.L. et al. (2014) Muscle Nerve. 49(3): 378 WB: mouse gastrocnemius
MP3401 Sakai, H. et al. (2014) Toxicol Appl Pharmacol. (2):190. WB: mouse muscle
MP3401 Stefanetti, R. et al (2014) Front in phys 5(30):doi 10.3389 WB: human muscle
AP2041 Ostler, J. et al. (2014) Am J Phys Endo Metab. 306(6): E592. WB: rat gastrocnemius and skeletal muscle
AP2041 Aare, S. et al. (2013) Physiol Genom. 45(8): 312. WB: pig biceps femoris muscle
AP2041 Rovetta, F. et al.(2013)Toxicol Appl Pharmacol;271(2): 196. WB: C2C12 myotubes
MP3401 Kang, C. et al. (2013) Jou. of App. Phys. 115(11): 1618. WB: mouse tibialis anterior
AP2041 Dong, Y. et al. (2013) PLoS One 8(3): e58554 WB: mouse satellite cells
AP2041 Tardif, N. et al. (2013) Am J Clin Nutr 98(6): 1485. WB: human vastus lateralis muscle
AP2041 Wilkinson, D.J. et al. (2013) J Physiol. 591(11):2911. WB: human skeletal
MP3401 Dong, Y. et al. (2013) PLoS One 8(3): e58554 WB: mouse muscle
RS3251 Kawasaki, H. et al. (2013) World J Gastroenter. 19(17):2629. WB, ICC: mouse intestinal myofibroblasts
AP2041 Rowan, S.L. et al. (2012) PLoS ONE 7(1):e29082. ICC: rat skeletal muscle
MP3401 Orellana, R. et al (2012) AJP Reg Int Comp Phys. 302(6):682. WB: Pig skeletal muscle LPS treated
MP3401 Sanchez, A. et al. (2012) J Cell Biochem 113(2):695. WB: Mouse primary myotubes
MP3401 Finlin, B.S. et al. (2012) J Nutr Biochem. 23(8):885. WB: human myotubes
MP3401 Hain, B.A. et al (2011) AJP Reg Int Comp Phys. 300(3):R595. WB: rat muscle
AP2041 Cong, H. et al. (2011) Human Gene Therapy. 22(3):313. WB: mouse muscle, C2C12, shRNA
AP2041 Wang, H. et al. (2011) Cancer Lett. 305(1):40. WB, ICC: mouse muscle
AP2041 Hain, B.A. et al (2011) AJP Reg Integ Com Phys 300(3):R595. WB: rat muscle
MP3401 Anvar, S.Y. et al. (2011) Skeletal Muscle. 1:15. ICC: C2C12 myotubes
MP3401 Vanderplanck, C. et al. (2011) PLoS One 6(10):e26820. ICC: human myoblasts and TE671 rhabdomyosarcoma
RS3251 Estrada-Bernal, A. et al. (2011) J Neurooncol. 102:353. Western Blot
AP2041 Zang, D.M. et al. (2010) Cir. Res. (107)1454: 1459. WB: rat and human coronary arterial smooth muscle
This kit contains:
| | | | | | |
| --- | --- | --- | --- | --- | --- |
| CATALOG# | DESCRIPTION | SIZE | APPLICATIONS | SPECIES REACTIVITY | MW (kDa) |
| | Atrogin-1 Rabbit pAb | 50 μl | WB, E, IHC | Hu, Rt, Ms | 41 |
| | Atrogin-1 Peptide | 50 μg | AB, E | | |
| | MuRF1 (C-terminal region) Rabbit pAb | 50 μl | WB, E, ICC | Hu, Rt, Ms | 38 |
| | MuRF1 (C-terminal region) Peptide | 50 μg | AB, E | | |
| | Anti-Rabbit Ig Light Chain Specific:HRP Mouse mAb | 100 μl | WB, E, ICC, IHC | Rb | |