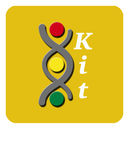 Catalog # CK6200
CRMP2 Phospho-Regulation Antibody Kit
Antibody Sampler Kit
KIT SUMMARY

The actin and tubulin antibody sampler kit can be used to examine phosphorylation of actin (Tyr-53) and tubulin (Ser-172). In addition, the antibodies included in the kit can be used to detect actin and tubulin expression patterns by western blot or immunocytochemistry.
Rabbit polyclonal antibodies are supplied in phosphate-buffered saline (PBS), 50% glycerol, 1 mg/ml BSA, and 0.05% sodium azide. The peptides are supplied in PBS and 0.05% sodium azide. Store all at –20°C. Stable for 1 year.



The products are are safely shipped at ambient temperature for both domestic and international shipments. Each product is guaranteed to match the specifications as indicated on the corresponding technical data sheet. Please store at -20C upon arrival for long term storage.
*All molecular weights (MW) are confirmed by comparison to Bio-Rad Rainbow Markers and to western blot mobilities of known proteins with similar MW.
Product References:
CP2191 Sebastian, Q. et al. (2016) AIDS Res Hum Retrovir. 32(1):68 WB: human peripheral blood mononuclear cells
CP2191 Watamura, N. et al. (2016) J Neurosci Res. 94(1):15 WB: mouse brain
CP2191 Moutal, A. et al. (2015) Mol Neurobiol. :1 WB: rat primary cortical neurons
CP2191 Wilson, S.M. et al. (2014) Front Cell Neurosci. 28(8):135 WB: rat cortical neurons
CP2191 Wilson, S.M. et al. (2014) Front Cell Neurosci. 24(8):196 WB: rat cortical neurons
CP2191 Akama, K. et al. (2013) Biochim Biophys Acta. 1834(2):601. WB: monkey ES, NSS, NS, and AstP cells
CP2191 Qin, Z. et al. (2013) PLoS ONE 8(11):e80758. WB: mouse brain
CP2191 Yonedaa, A. et al. (2012) Mol Cell Biol. 32(10):1788. WB: rat fibroblasts, MDA-MB-231, SW480, MDCK
CP2251 Yonedaa, A. et al. (2012) Mol Cell Biol. 32(10):1788. WB: rat fibroblasts, MDA-MB-231, SW480, MDCK
CP2161 Brittain, J.M. et al. (2012) FEBS Letters 586(21):3813. WB: rat brain
CP2191 Namekata, K. et al. (2012) J Neurosci. 32(1):264. WB: COS7
CP2251 Crews, L. et al. (2011) Mol Neurodegener. 6:67. WB: rat neurons; human, rat, and mouse brain
CP2161 Foger, N. et al. (2011) J Exp Med. 208(9):1777. WB: mouse thymus, lymph node, spleen
CP2161 Lin, P.C. et al. (2011) J Biol Chem 286:41466-41478. WB: COS7, OLDN-93, NIH3T3, and N1E-115 cells
CP2191 Lim, Y-W et al. (2010) Bioch Biophys Res Comm 395(2):207. WB: rat cortical neurons
This kit contains:
| | | | | | |
| --- | --- | --- | --- | --- | --- |
| CATALOG # | DESCRIPTION | SIZE | APPLICATIONS | SPECIES REACTIVITY | MW (kDa) |
| | CRMP2 (C-terminal region) Rabbit pAb | 50 μl | WB, E, IP, ICC | Hu, Rt, Ms | 70 |
| | CRMP2 (Ser-522), phospho-specific Rabbit pAb | 50 μl | WB, E, ICC | Hu, Rt, Ms | 70 |
| | CRMP2 (Thr-555), phospho-specific Rabbit pAb | 50 μl | WB, E, ICC | Hu | 70 |
| | CRMP2 (C-terminal region) Peptide | 50 μg | AB, E | | |
| | phospho-CRMP2 (Ser-522) Peptide | 50 μg | AB, E | | |
| | phospho-CRMP2 (Thr-555) Peptide | 50 μg | AB, E | | |